"Holy Toledo!"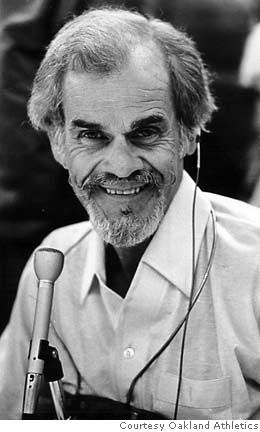 Words Have Power hasn't changed to sports blogging, but sometimes events have a way of demanding comment.

Earlier this week, Bill King, the greatest sports broadcaster to ever lend his voice to a game, died. King was the king of radio broadcasting. During a forty year career he was the lead announcer for the Oakland Raiders and Athletics and the Golden State Warriors. For years he was the main man for all three organizations.


King's brilliant delivery, uncompromising honesty and as one of his former employers described it his
" incredible eye-to-brain-to-mouth coordination" made him a Bay Area institution. He was more than the voice of Bay Area teams, he was the essence of the Bay Area as a person.

Bill King refused to conform to the demand of the mainstream broadcast media's perception of a sport announcer. He kept his trademark moustache and goatee and chose to remain in the San Francisco rather than conform to standards he couldn't accept.

King was an original. His preferred mode of dress for any game was a loose shirt, shorts and scandals. He wore socks when it got really cold, say on a Raider road trip to New England in December. At baseball spring training camp, in sunny Arizona, King stuck with Speedos and flip flops.


King loved jazz, the opera, art, food, Russian literature. He lived on a boat, drove cars that would not meet the current standard of "beater" and poured his passion and quirks into incredibly broadcast riffs that made every game he called better for his observation of it.


His peers loved and respected him. Bay Area sports fans still hear his calls of some of the great moments in sports history. We can hear the final minutes of the Warriors 1975 NBA Championship sweep. We can hear his call of the Holy Roller against San Diego in 1978. He was, and in our mind's ear, still is the voice of the Raider, A's and Warriors.

I developed a life long passion for the game of basketball in part because I was able to listen to Bill King's word pictures of the game. King was a great observer, who told the truth. He wasn't afraid to make his opinions known at courtside. King told the refs what he thought while keeping the rest of us informed. He was never a "homer", but he never forgot who was listening and he could be our advocate at times.

The tributes keep coming. From the fans, from his peers, from the team owners, from the

players. One of the best I've read comes from San Francisco Chronicle columnist, Ray Ratto:



"... he was fearless. He said what he saw, not what he was told to say. He was accurate always, and he was witheringly critical when it was required. Listeners knew they were getting the straight deal every time, because he not only wouldn't lie to gussy up a player's profile, he couldn't. He wasn't trained that way, as so many broadcasters are now. He loathed homers, announcers who tart up the home team because they think they are providing a service, because being a homer requires an essential dishonesty he could not abide.
Mostly, though, he was fun, which is the whole reason why there still are sports on the radio. He swore at official Ed Rush when the Warriors lost a critical call in a game against Seattle. He described breathlessly how the officials told Raiders coach John Madden to get his "big butt out of here" after the "Holy Roller" play in San Diego. "He does" was King's classic follow-up that few people remember...

He never lingered over goodbyes, because he always had a new place to be. It is the gift and the curse of the ravenously curious to always think of what's next, and to head that way at top speed."



Thanks for all those memories Bill................