Bush Still Won't Act to Help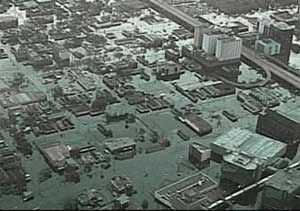 Today's

Los Angeles Times

reveals that despite his multiple trips and photo ops in the hurricane devastated
Gulf
Coast
, President Bush is doing virtually nothing to actually help in the recovery process.
"Almost two months after Hurricane Katrina slammed into the Gulf Coast and a month after promising in a nationally televised speech to help rebuild the region "quickly," President Bush has settled on a cautious, piecemeal approach that even many members of his own party fear will stall reconstruction and sow economic disarray.
Bush has made highly publicized trips to Louisiana and Mississippi on average of once a week since the storm, but the administration has yet to introduce legislation for two of the three proposals the president highlighted during his September speech from New Orleans.

But if administration work on reconstruction is proceeding, it seems not to be occurring with anything like the urgency and decisiveness that Bush suggested it would when he stood before the cameras in a darkened and largely deserted New Orleans for his Sept. 15 address."
The Times emphasizes that Bush has done nothing to push forward any meaningful recovery legislation and that his administration and, in particular FEMA, can't even figure out how to spend the $62 billion already authorized by Congress for recovery. With less than a third of that money committed, Bush is planning on going back to Congress for $20 billion more in aid and reconstruction money.
"Among the complaints: that after an initial rush of spending, the administration has been unable to make use of most of the billions of dollars it requested immediately after Katrina, and that it has offered only the sketchiest of accounts for what it has done with the money it has spent.
FEMA, which received almost $60 billion of the $62 billion in emergency funds, had "obligated" or assigned only $15.6 billion as of last Wednesday — less than a third of the money available — according to a weekly report the agency sends Congress."
Bush offered hurricane victims' hopeful rhetoric after his high criticized early failure to prepare or respond to Katrina's destruction. Now he is failing to live up to his commitments to Katrina's victims, turning away calls for leadership at the Federal level to deal with the overwhelming crisis being faced at the local level. His failure to grasp the need for Washington led leadership has even Republicans critical and concerned over the potential ramifications of the Bush "lead nothing" approach.
"The president put out some very large ideas, but the administration isn't leading on them in any very public way," said Stuart M. Butler, vice president of domestic and economic policy at the conservative Heritage Foundation think tank. "There's been a general hands-off approach, which is disturbing."

[Jack] Kemp, the former HUD secretary, agreed.

"Laissez-faire, Darwinian capitalism is not going to work here," Kemp said. "Markets do work, but they need the direction of government in situations like this."

Despite pleas from congressional leaders of both parties, Bush has resisted any ideas that might result in coherent Federal leadership for reconstruction efforts. Bush has instead taken the same approach he took to the hurricane itself: pretend it isn't happening and try to distract people with other activities.

As the full dimensions of the rebuilding task become clear, Democrats and some GOP leaders are calling for a degree of government involvement that the president almost certainly finds objectionable. The White House appears to be searching for a way to put primary responsibility for coordinating the work on state and local officials.
But by wiping out whole communities, Katrina created problems that even some Republicans argue cannot be handled by individuals and market mechanisms alone...
In a separate proposal, conservative Sen. Judd Gregg (R-N.H.) and liberal Sen. Edward M. Kennedy (D-Mass.) called for a Cabinet-level Gulf Coast Recovery and Disaster Preparedness Agency, which would be the conduit for all federal funds to the region. A companion agency with a board of mostly state and local officials would come up with the rebuilding plan.
"You need a single point where all federal funds go through so you have accountability," Gregg said.
White House officials have all but rejected the Gregg-Kennedy proposal and offered only a polite nod to the Baker plan.
The administration has "bought into the idea this should be a bottom-up thing," Gregg said. "The danger is confusion, inefficiency and huge bureaucratic frustration."
Katrina's victims remain victims. George Bush failed them through inadequate preparation for the disaster. He failed them through an inept response to the disaster as it was occurring. And, now he is failing them once again. Promising help, but leaving them to shift for themselves.