This Could Get You Fired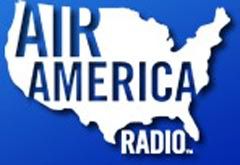 A San Diego County woman claims that she was fired from her job with Advantage Sales and Marketing Incorporated because of an Air America bumper sticker on her car.
The
North County Times
carried the story of Linda Laroca in its Saturday edition.
In it Laroca contends that her supervisor, Beverly Fath, asked her to meet in a parking lot to exchange some documents and then proceeded to make an issue out of the bumper sticker on Laroca's car.
In her suit, filed Feb. 21, Laroca charges that Fath asked her to meet up in a grocery store parking lot on a Saturday to hand off some paperwork.
During that brief encounter, the lawsuit asserts, Fath allegedly pointed to the sticker ---- the only one on Laroca's small white convertible ---- and called it "that Al Franken left-wing radical radio station."
The nationwide syndicated radio programming from Air America, which describes itself as "progressive entertainment talk radio," features such show hosts as comedian and author Al Franken.
Laroca's suit claims that Fath also told the woman she could be a member of al-Qaida, then allegedly followed up with, "I am going to just have to fire you."
Apparently Fath and the Orange County based Advantage Sales and Marketing are attempting to portray the parking lot incident as a "misunderstanding" and/or a "joke" gone bad. However, Laroca was a new employee of the company and obviously didn't understand the corporate culture of joking about firing people for touting progressive talk radio on their car bumpers.
Fath and Advantage Sales and Marketing have tried to make things right with Laroca and bring her back to work, but Laroca has lawyered up and is going after her former employer.
Laroca said that after Fath told her the comments were in jest, the company later invited Laroca in writing to return to work or face losing her job. Laroca said she did not respond.
Laroca's suit is seeking lost wages and damages for wrongful termination for violations of both public policy and the state labor code. She is also claiming state constitutional violations and emotional distress.
The California labor code prohibits employers from controlling or directing the political activities of employees.
I don't know the merits of Laroca's case nor do I know how the whole parking lot conversations went down. But, I do know that in George Bush's America, your rights can be abridged because you have the wrong sort of
bumper sticker
on your car or the wrong message on your
tee shirt.
That makes it pretty easy to see things from Laroca's perspective.