"convey a positive image"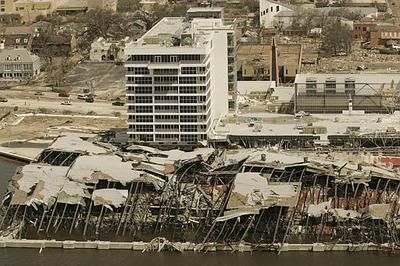 The AP this evening published an article that basically says, FEMA waited until after Katrina struck the Gulf Coast before taking any concerted action. And, according to the AP, the primary actions taken by FEMA director, Michael Brown was to ask for several thousand Department of Homeland Security Employees to help "convey a positive image" of FEMA and DHS in the divestated region.
"Michael Brown, director of Management Agency, sought the approval from Homeland Security Secretary Mike Chertoff roughly five hours after Katrina made landfall on Aug. 29. Brown said that among duties of these employees was to "convey a positive image" about the government's response for victims.
Before then, FEMA had positioned smaller rescue and communications teams across the Gulf Coast. But officials acknowledged Tuesday the first department-wide appeal for help came only as the storm raged.


Brown's memo to Chertoff described Katrina as "this near catastrophic event" but otherwise lacked any urgent language. The memo politely ended, "Thank you for your consideration in helping us to meet our responsibilities."
According to the AP, Brown was very busy on August 29. Aside from his memo asking for public relations troops, he also wrote a memo requesting that outside emergency service agencies be kept out of the disaster area.

"Brown also urged local fire and rescue departments outside Louisiana, Alabama and Mississippi not to send trucks or emergency workers into disaster areas without an explicit request for help from state or local governments. Brown said it was vital to coordinate fire and rescue efforts."

Considering that almost no coordination of efforts was attempted for nearly a week, it seems that Brown certainly wasn't in a hurry to get everyone together on the same page.

Brown is clearly going to be thrown under the bus. The internal memo and other inside FEMA information is being leaked to provide the President cover to ask Brown to step down. Will Brown's resignation be enough to save the guy who hired him, or is George Bush going under the bus, too?