It's the Democrats Fault - Grover Norquist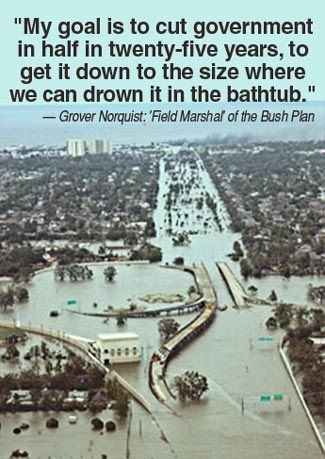 .
..a Democratic city run by a Democratic mayor and a Democratic governor

What more do we need to know about the Republican spin machine at work. According to
Newsweek
, out trots Gover Norquist to do the dirty work for Karl Rove.
"Bush partisans went on the offensive. Grover Norquist, the conservative activist with close ties to Karl Rove, blamed the chaos on "looting in a Democratic city run by a Democratic mayor and a Democratic governor."
What about the Republican president who stayed on vacation while a category 5 hurricane homed in on New Orleans like a heat seeking missile? Newsweek suggests that perhaps the President's response was a bit weak.
"Still, nobody accused Bush of an overly rapid response. It took two days for Bush to fly over the disaster zone in Air Force One, and four days for him to touch down."
Newsweek doesn't have the journalistic integrity to point out that when he did "touch down" it was to participate in
staged photo opportunities
, like the one the Newsweek uses at the top of its story.
Newsweek also doesn't have the courage to point out what is painfully obvious to anyone with half a brain. While the storm of the century was moving slowly toward the United States Gulf Coast, President Bush, Vice-President Cheney, Secretary of State Rice and their top aides continued to vacation.
YES. WHEN LEADERSHIP WOULD HAVE MADE A DIFFERENCE, OUR COUNTRY'S LEADERS STUCK WITH THEIR VACATIONS.