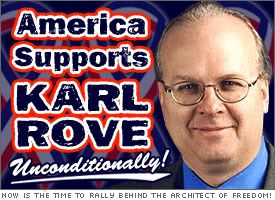 "Web of Lies"
Joseph Wilson addressed the whole
Rove/Bush Axis of Evil in an interview
on The Today Show earlier today.
What this thing has been for the past two years has been a cover-up, a cover-up of the web of lies that underpin the justification for going to war in Iraq. And to a certain extent, this cover-up is becoming unraveled. That's why you see the White House stonewalling.
I think Wilson also made clear the fundamental difference between himself and his wife, Valerie Plame Wilson, and Karl Rove.
The Wilsons spent 43 years serving the United States
in assignments that were usually far from home and often dangerous.
While the Wilsons were serving, Karl Rove, the man who tried to destroy them was doing the following in the service of his own warped ambitions:
1970 - the 19 year old protégé of Donald Segretti (convicted as a Watergate conspirator), Rove was sneaking into the campaign office of Illinois Democrat Alan Dixon and stealing letterhead to use to print fake campaign fliers.
1986 - In the midst of a tough Texas campaign, Rove informs reporters that his office had been bugged. It turned out that Rove had bugged his own office.

1992 - fired from Bush I presidential campaign for leaking information to right wing journalist Robert Novak

(sound familiar)

.

March 2001 - while working in the White House, helped semiconductor giant, Intel, with a bid to purchase a Dutch company. Rove owned $100,000 worth of Intel stock at the time.

June 2001 - met with pharmaceutical industry lobbyist to discuss White House strategy, Rove owned close to $250,000 worth of drug industry stock at the time.

Also June 2001 - the White House disclosed that Rove was involved in the development of the White House energy policy while retaining ownership of stock in numerous energy companies, including Enron.

When asked if justice would be served and if Karl Rove would face punishment, Joseph Wilson is optimistic:

Absolutely. Absolutely. The president said in— in the middle of 2004 he would fire anybody who was caught leaking in this matter. Karl Rove has now been caught. The president has said repeatedly, I am a man of my word. The president really should stand up and prove to the American people that his word is his bond and fire Karl Rove.
Considering George Bush's track record, I don't share Wilson's optimism.

(Support Karl posted courtesy of The White House)