Jenna and Barbara - Do the Royal Thing
Over at
One Pissed Off Veteran
, Farnsworth, takes a different approach in his weekly Bush Twins In Uniform Watch. Instead of shaming the Bush princesses for their apparent interest in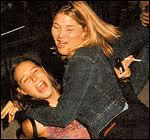 drinking, partying and hanging out with coke dealers, Farnsworth gives them the example of Britian's little princes, William and Harry.
These young men, also not strangers
to the party and social scene, have both attended Sandhurst, the British equivalent of West Point, and both accepted posting in the active duty military. Prince Harry is very likely to be shipped off to Iraq later this year.
Duty, honor, country, service - just words to the Bush family.