What if the Kingdom of Heaven is already here?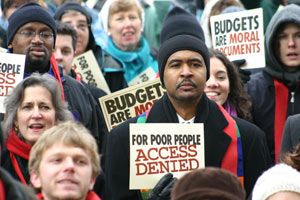 Let's say that the Bible's Book of Revelations has already come to pass. Jesus is already here on Earth and he is making judgments on us every day. Let's say that it is in our power, today, to turn this planet into the Kingdom of Heaven.
We have the power.
It resides in each of us, just as God resides in each of us. What would we do if all this were true?
If you were the great, powerful, Christian leader George Bush and his right wing Republican allies (abetted by the religious right), you would put anyone who disagreed with you in jail.
North County Blues
reports on another story ignored by the mainstream media. The arrest of over one hundred religious leaders who were protesting the Republican's immoral budget. From
Sojourners
:
"115 religious leaders were arrested in front of the Cannon House Office Building while kneeling in prayer to protest the immoral budget and tax agenda which slashes spending on the poor to finance tax breaks for the rich. Led by Jim Wallis of Call to Renewal, national faith leaders, clergy and faith-based providers of services to the poor held a press conference.
Following the press conference the leaders kneeled in prayer blocking the entrance to the Cannon House Office Building on the corner of Independence and New Jersey Avenues. The Capitol Police began arresting the participants after warning them three times to move from the entrance. The participants were escorted one at a time into one of two Metro buses transported to a Capitol Police warehouse facility at 67 K St., SW (South Capitol and K Street) where they are being processed at this hour. Also at this hour a vigil in support of those who participated in today's civil disobedience is taking place at the same location."
Read more from the people who were there
.