Your Not Blind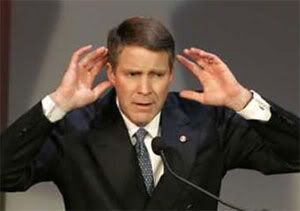 "Please Speak Louder,
I'm Blind"
Senator Bill Frist, and the United States Senate in general, apparently have a different definition of a blind trust than the rest of us and the financial management world.
Here is Investopedia definition of a "blind trust":
"A trust in which the executors have full discretion over the assets, and the

trust beneficiaries have no knowledge of the holdings of the trust

.
"

(emphasis added)



So when we learn, from the AP, that
Frist has been consistently apprised of the nature and size of at least the HCA (Hospital Corporation of
America
) assets in his "blind trust"
, then we must assume that his trust really has something like 20:200 vision. Not so much a blind trust as a "correctable" one.

When we also learn that Frist has consistantly lied about the extent of his knowledge about the HCA holdings in his "trust" we have to assume that the only people Frist was trying to keep in the dark relative to his trust, were the American people.

"Senate Majority Leader Bill Frist, R-Tenn., was updated several times about his investments in blind trusts during 2002, the last time two weeks before he publicly denied any knowledge of what was in the accounts, documents show.
The updates included stock transactions involving HCA Inc., the hospital operating company founded by Frist's family."

The real meaning of a "blind trust" to Bill Frist is one that keeps others in the dark as to the unethical behavior of the Senator.