How Far Does This Go?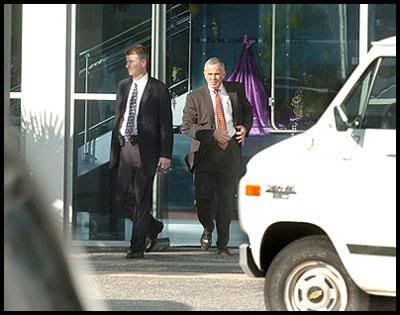 Josh Marshall at TPM is all over the latest twist in the saga of Congressman Randy "Duke" Cunningham. Tuesday's raid on the ADCS facility and its owner, Brent Wilkes, home demonstrate how serious and how broad the investigation of Cunningham's dealing with defense contractors has become. The ADCS and MZM pieces account for some serious money.
"But look at the key points. MZM, $66 million in revenues in 2004. Between 2000 and 2004 ADCS bagged $76 million in defense contracts. $60 million here, $70 million there, pretty soon you're talking about real money. The two companies were connected."
The connection between MZM's Mitchell Wade and ADCS is a curious one. In 2000, Wade lists himself as a consultant for ADCS, in a Federal Election Commission filing for a $1,000 donation to Idaho Senator Larry Craig. Clearly, there is a link between the two companies and that link was active about the time these companies started to drop big money on a group of well connected Republicans.
There is more to come and there may be more politicians involved than just Cunningham.
Brent Wilkes owns ADCS along with a number of other businesses, including a lobbyist organization and a piece of a private jet used almost exclusively to transport Republican members of Congress. Wilkes and ADCS have given a substantial amount of money to Republicans over the last few years.
In 2004, ADCS' PAC gave $41,000 to 12 Republican candidates. Of that group, nearly half were involved on either Appropriations or Armed Services committees. Cunningham received $5,000 and his San Diego County side-kick, Congressman Duncan Hunter got $2,500.
In fact, in the last six years ADCS or Wilkes has donated at least $15,000 to Hunter or his PAC.
But, Brent Wilkes doesn't just dole money out to lowly Congressmen and Senators. He is also a Pioneer fund raiser for George Bush. As
San Diego City Beat
reports in a story about Bush's "Bagmen", Wilkes pulled in big money for Bush in 2004.
"We couldn't find evidence indicating what Wilkes, owner of Wilkes Corp. and its subsidiaries, would want from Bush other than additional contracts like the $10 million deal one of his companies, ADCS Inc., struck with the executive branch in 2002 to provide the Department of Defense with software and telecommunications services. It's the same reason why Wilkes also runs his own political action committee, creatively titled ADCS Inc. PAC, which he uses to funnel thousands of dollars each election to Republicans like Duncan Hunter, Trent Lott and Randy Cunningham."

Wilkes also found time and money to help out multi-millionaire actor turned politician, Arnold Schwarzenegger, who received $21,200 from ADCS in 2004.
Is it coincidental that the spectacular rise in the fortunes of MZM and ADCS since 2000, coincides with an equally dramatic increase in financial contributions to key Republican law makers at every level?
As Josh Marshall points out.


"This isn't just a Duke Cunningham scandal. It's a serious defense contracting scandal. And even if Duke says he's not going to run next year, it ain't over."