Government Wants Duke's Castle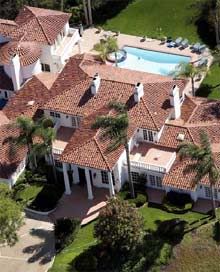 This morning the San Diego Union Tribune informs us that in July, the U.S Attorney filed a "secret lawsuit" establishing a government claim on Congressman Randy "Duke" Cunningham's Rancho Santa Fe mansion.



The existence of the government action, known as a "lis pendens," was revealed when Cunningham put the house up for sale yesterday.

"The U.S. Attorney's Office has filed a secret lawsuit against Rep. Randy "Duke" Cunningham that contends he should forfeit his Rancho Santa Fe home to the government because it was purchased with illegally obtained money.
Notice of the lawsuit and the government's interest in the property was filed with the San Diego County Recorder's Office.
[...] the U.S. attorney's declaration that it has a claim on the property makes a sale difficult if not impossible for the time being, local real estate agents said.
[...] "Please take notice," the document reads, "that a civil lawsuit is now pending in the United States District Court . . . which involves title to (Cunningham's house)."
The notice goes on to say: "The general object of the lawsuit is to forfeit to the United States the defendant property in that said property constitutes or is derived from proceeds traceable to a violation of Title 18 United States Code, Section 201. . . . "
Title 18, Section 201 pertains to bribery, graft and conflicts of interest."
Bribery, graft, conflicts of interest - the Republican Congress of Corruption rolls on.
(photo San Diego Union Tribune)