CA-50 Voting Patterns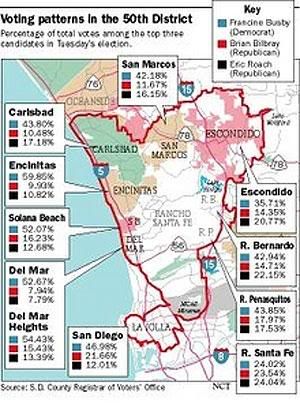 The
North County Times
has an initial breakdown of voting patterns in the 50th CD special election.
The results aren't really surprising. Democrat Francine Busby did extremely well in the coastal communities of the district. If the decision were left to the coast, Busby would be on her way to congress. Inland, Busby led the 18 candidate field in every community, but by much narrower margins.
Roach and Bilbray showed a much weaker performance than Busby at coastal community polls than they did in the election as a whole. Bilbray won 15.27 percent of the votes districtwide, but at coastal polling stations, his share came to 12.38 percent. Similarly, Roach won 14.50 percent of the votes districtwide and 11.17 percent at coastal polling stations.
However, a very different pattern emerged in the inland communities of Escondido, Rancho Bernardo, Rancho Penasquitos, Rancho Santa Fe and San Marcos. While Busby won 54.8 percent of the votes on the coast, she only earned a 37.7 percent share of votes in the inland communities. Meanwhile, Roach and Bilbray performed much better in inland areas than they did on the coast.

Whereas Bilbray's coastal share stood at 12.38 percent, he scored an average of 16.45 percent at inland polling stations. For Roach, the coastal versus inland contrast was even more dramatic. He earned a 11.17 percent share of the votes at coastal polling stations, but 20.13 percent inland.

Busby will need to hold the coast and change some minds in the more staunchly conservative inland communities to give her the margin she needs in June.