Packed House for Campaign Rally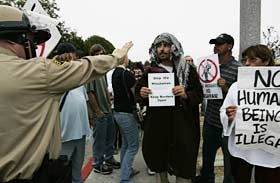 "A whole lot of heat,
but not much light"
Yesterday, California state Senator Bill Morrow held the first rally of his campaign for Congressman Randy "Duke" Cunningham's soon to be open seat in the 50th Congressional District.
Morrow had been forced to sue the Carlsbad Unified School District in order to compel its superintendent to allow him to hold what he called a "public forum" on illegal immigration at a school district facility.
The concept of a public forum to discuss a serious and contentions issue such as illegal immigration is one that deserves attention and community support. But, that is not the "public forum" that Morrow and his supporters provided the community.
Urged on the radio by the forum's emcee, conservative talk show host, Roger Hedgecock, the facility was packed with supporters of Morrow's position hours in advance of the scheduled starting time. The
North County Times
describes how the forum was stacked with only "true believers."
"One anti-illegal immigration advocate inside the school's 400-seat capacity Community Cultural Arts Center said he believed the reason that so few immigration-rights advocates made it inside was because radio talk-show host Roger Hedgecock, who emceed the meeting, gave his listeners a heads-up on his Wednesday radio show.
"Roger told his listeners that we should arrive early, so we could fill up the auditorium," said Orange County resident Shain Sternod, 43. "There was no opposition, and he did not take any questions; so, it turned out not to be a town-hall meeting, just a series of speeches."
In a companion piece the
North County Times
provides some insight into the crowd allowed inside the "forum."
"The anti-immigration contingent, dressed in golf shirts and creased slacks, seemed to be having a good time cracking wise and smiling as they shouted "Go home illegals."



When this "public forum" was first proposed it was clearly not designed to address the complexities of the issue of illegal immigration. It was designed to be a forum for men like Morrow, Colorado Congressman Tom Tancredo and Minuteman Project founder, Jim Gilchrist to expound on their side of the issue. And, that's what the forum was.

But, there is more to it than just a pep-rally for immigrant bashers. Tancredo is on the road testing the waters for a presidential run in 2008. Gilchrist is looking at entering the field in the 48th Congressional Districts in Orange County. And, according to the San Diego Union Tribune, Bill Morrow officially announced his candidacy for the 50th District seat, yesterday.

How convenient for all of them that Morrow as able to compel the school district to provide them with the space for their campaign rally and to force Carlsbad and surrounding communities to pay for the dozens of extra police officers required to keep Morrow's campaign rally from turning violent.


(photo San Diego Union Tribune)