Help Hackett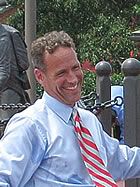 T
here Are No "lost causes"
Only Causes Worth The Fight
Get over to the
Swing State Project
and read the on-the-ground reporting from Bob Brigham from Paul Hackett's congressional campaign in Ohio.
Reading about what is happening in this Republican stronghold, when a man, who happens to be a Democrat, with ideas and the courage to tell people what he thinks steps forward is awe inspiring.
The DCCC should be ashamed of itself for not putting more resources in place for Hackett's campaign. If it wasn't for grassroots organizations driven by progressive blogs, Hackett wouldn't have the resources to challenge the corrupt Ohio Republican establishment.
Win or lose, Democrats should learn about fighting every battle in every state. If we want our ideas to prevail, we have to work to have those ideas get a fair hearing everywhere. Paul Hackett is doing that. He shouldn't be the only Democratic candidate fighting in a "lost cause" campaign.
"…you know that you fight for the lost causes harder than for any others. Yes, you'd even die for them…"