More Doolittle Reporting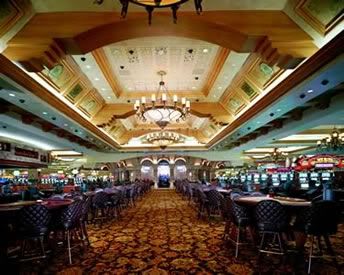 The
San Francisco Chronicle
picks up on California Representative John Doolittle (CA-4). Doolittle's ties to Jack Abramoff are gaining him a large degree of unwanted attention and even driving some Republican challengers for Doolittle's seat out of the Sierra foothills woodwork.
The Chronicle picks up the main topics of investigation regarding Doolittle, but drops the ball in following up on the
financial advantage
the Congressman enjoys by having his wife as his chief fund raiser.


The Chronicle does demonstrate Doolittle's ambivalent attitude toward the growth of casino gambling. Apparently, he is for it - when he's not voting against it.
"Abramoff, whose clients operated casinos, gave Doolittle, an opponent of casino gambling, use of his skybox at a Washington, D.C., arena for a fundraiser in February 1999. Doolittle has since paid Abramoff for the use but failed to report the in-kind contribution it represented until February of this year, after news reports about the fundraiser.
In 2002, Doolittle was one of 27 lawmakers who signed a letter urging the Bush administration to reject a proposed Louisiana casino opposed by Abramoff's casino-operating clients on the grounds that gambling is societal evil.
Two months later, Abramoff's Indian casino clients contributed $16,000 to Doolittle and an additional $15,000 by the end of the year. Abramoff's restaurant also catered a Doolittle campaign event."

Not a bad deal for Doolittle, he is "morally" opposed to gambling and one could have expected that he would vote "no" out of those personal convictions, but he got a nice $15,000 contribution from Abramoff's Indians for voting "no".

Back in 1994, when every Indian tribe in the country, and in California in particular, was looking for a way to jump on the Indian gaming bandwagon, Doolittle helped the 170 member United Auburn tribe get back it's federal recognition. The newly reorganized tribe then proceeded to build a gambling casino in Doolittle's district.

"In 1994, Doolittle carried legislation to re-establish federal recognition of the United Auburn Indian tribe, which is within his district.
Doolittle has said the tribe told him at the time it had no plans to build a casino, it wanted federal recognition only for various benefit programs.
The tribe now operates Thunder Valley, a 200,000-square-foot casino near Lincoln (Placer County). "

For it, against it. Let the money decide.

John Doolittle is starting to feel the heat from the Abramoff flame and, if Abramoff starts to sing, then Doolittle is likely to be burned.

Hat tip to Defeat Doolittle's Daily Kos note.